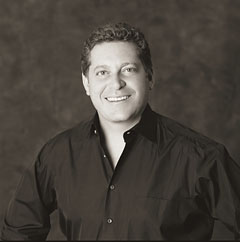 You might not think of serial entrepreneur Eric Greenberg as an outspoken advocate for America's youth, but you will soon if he has anything to do with it.
Greenberg, with the help of writer Karl Weber, has just published Generation We, a book that explores the emerging power of today's twentysomethings and argues that they're poised to change the country. Unsurprisingly, it's based in part on their unprecedented involvement in the election campaign of presidential nominee Barack Obama.
Said Greenberg in a mass email today, "Karl and I wrote Generation We to explain the 95-million-person generation also referred to as the Millennials. Their huge numbers and progressive attitudes are already changing America. And the world. One only has to look as far as the Obama phenomena to understand that. In the latest quarter of fundraising alone, a staggering 128,000 students donated to his campaign."
Whether Greenberg is the right person to give voice to young people remains to be seen. Most still associate him for his capitalist career in Silicon Valley, one that's had its zigs and zags.
In the late '90s, of course, Greenberg founded the now-defunct Internet consultancies Viant and Scient. Both went public, then tanked. Greenberg, who'd once been a VP at Gartner Research, was worth an estimated one billion dollars at one point; he lost most of it in the crash.
Greenberg then co-founded the holding company 12Entrepreneuring with CNet founder Halsey Minor. Nearly six months after the company was formed in February 2000, Greenberg left. (Greenberg and Minor have both suggested they might have killed each other otherwise.)
By 2003, Greenberg was financing the Acumen Journal of Life Sciences, an Economist-esque magazine that examined the political and social implications of discoveries in the life sciences and biotechnology fields. The magazine was well-regarded, but expensive. When after five issues it hadn't garnered nearly enough subscribers to start covering its costs, Greenberg pulled the plug.
Today, Greenberg heads up his own personal investment fund, Innovation Investments, which has backed, among other things, Acumen Sciences, a San Francisco-based research and advisory company to the life sciences industry. Greenberg is also the president and CEO of Beautifull, an Emeryville, Calif.-based startup focused on providing healthy, fresh food for retail and home delivery.