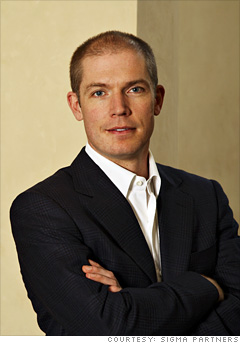 Greg Gretsch of Sigma Partners has reason to feel confident about his future as a venture capitalist. He backed the storage company EqualLogic, which sold to Dell in 2008 for a tidy $1.4 billion in cash. He led an investment in the Web services management company TalkingBlocks, which raised $9.5 million from VCs and sold to HP. (Details weren't disclosed but Gretsch says it was a 2x for Sigma).
Gretsch has also seen some nice exits from angel investments made long ago. The audio player company Slim Devices, founded in 2000, was one of those deals. It raised $5 million and sold to Logitech for $23 million in 2006. Gretsch was also an early backer of Postini, which raised $26.45 beginning in 1999. It sold to Google for $625 million in 2007.
Even still, Gretsch says that as he enters his 10th year in the business, he's worried about a tipping point. To wit, Gretsch doesn't think that the longer you're a VC, the more skilled you become in picking winners. Instead, he theorizes that if you're a VC for more than 10 years, you're likely to grow worse at your job over time. It's mostly a hunch, based on what he's observed during his years in the industry, but he says he also had an LP friend run some numbers. "[The LP] has 945 venture capitalists in his database. Of those nearly thousand individuals, only 35 have a 'good' track record, meaning they've returned 3x over the course of their careers." Of those 35, "more than than half of them have been in the industry for 10 years or fewer."
Given the horrifyingly small number of successful VCs overall, I'm not convinced that a tipping point exists. Still, it seemed worth asking Gretsch, who cofounded three companies before joining Sigma, what the drivers of poorer performance over time might be.
Gretsch had a few ideas, beginning with the obvious: the older a VC becomes, the further out of touch with new technologies he or she is likely to become. He also posited that "as you move up the professional pyramid, your network actually shrinks. You know the CEOs and their key employees but the people you interact with are fewer. You're not meeting the Chad Hurleys of the world, the lower-level employees who are striking out on their own."
Another stumbling block for VCs who've had some success is that they "try to look for the next generation in that same space," said Gretsch — despite that the sectors producing the biggest returns constantly change.
There's also, well, life, he suggested. Like everyone else, VCs experience more hard stops as their commitments — to their families in particular — grow over time. (Gretsch, who now has three young children, has some experience in this area.)
I doubted Gretsch was trying to argue his way out of a job, so I asked him what he's doing to avoid become lousier at venture capital, given that he'll be entering his second decade with Sigma soon. For one thing, he said, he's working to "remain humble, keep my attitude in check, and stay hungry."
Unsurprisingly, too, Gretsch said he's also looking at much more than storage technologies. (He said that of his portfolio companies, he's probably most bullish on the six-year-old global services marketplace oDesk, which has raised $30 million so far from Sigma, Benchmark Capital, Globespan Capital Partners, and DAG Ventures.)
Perhaps most notably, Gretsch said that's he's focusing on building relationships with the next-generation of successful VCs, like Sequoia's Roelof Botha, in which he sees a younger partner with a broad network and a fresh perspective.
"When I was new to the business I wanted to find wisdom and experience," he told me. "Now that I have a little of both, I'm reaching out to the younger guys to stay fresh…and be better and what I do."