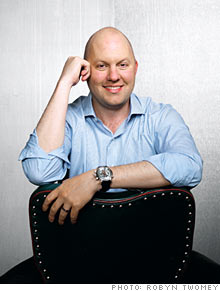 Early last month, the tech and investing world was blitzed by glowing profiles of Andreessen Horowitz  as it released the news that it had raised a second, $650 million, fund in three weeks time.
A minor backlash followed, including right here, where we called the praise premature, given that the year-and-a-half-year-old firm has yet to see any returns. (It had also pre-marketed its fund for at least six months.) But Andreessen is nobody's fool, and he quickly invited me to the firm's well-appointed Sand Hill Road offices to tell me that I'd "nailed it," then expound for an hour about why, one day, his firm really will be the best in the business.
"It's all downhill for you from here," he kidded, as I scribbled notes from the oversize furniture in his office last week.
Indeed. Following are parts of that conversation, from how big a bet we can probably expect to see Andreessen Horowitz make, to which of its peers are still easily elbowing the firm out of competitive deals. Our talk has been edited for length. More of our conversation will appear in the upcoming issue of peHUB's sister publication, Venture Capital Journal.
I've heard from many VCs, who seem very aggravated by your firm. Why do you think that is?
Well, I don't know. It depends who we're talking about. I've been working with Jim Breyer on the Facebook board for four years, and we and Accel bring each other deals. We've done a lot with Greylock. Ben [Horowitz] and Aneel [Bhusri] sit on [the board of stealth startup Proferi] together. We just syndicated a seed deal to Greylock and Kleiner Perkins, which we work with a lot; we also work with Benchmark on some things. And we're working on our first deal with Sequoia right now, which isn't closed yet, but that we're excited about…
I think a lot of them are wondering how you can you do the same thing with $650 million as you did with your first $300 million fund raised last year.

You can't. You have to do something different. The big difference is the new fund has a much bigger allocation to growth investing.  The first fund was $300 million, of which $250 million was allocated to venture and seed, and $50 million was allocated to growth. In the new fund, $300 million is allocated to venture and seed, and $350 million for growth.
What will its pacing be like? You really blew through that first $300 million.

The first fund had two exogenous factors that caused it to get invested quickly. One was that Skype materialized immediately, and so we pulled the trigger on that [investing $50 million for a roughly 2 percent stake as part of a consortium to spin the company out of eBay], and that immediately blew our growth allocation, in, like, the first month. Another thing is that a bunch of venture investments from the first fund came out of [roughly 45] companies we'd seeded [as personal investments], so they were already companies we knew and had worked with.
So you expect to invest this fund more slowly.
First, I think we've largely made the venture investments we're going to make in companies we'd seeded before we started the fund. It's long enough now [that the rest] aren't materializing into venture opportunities. Although we do have seed investments from the first fund that we could conceivably back with the second fund. I guess we'll see how good we did on picking seed investments.
Also, we have a much bigger allocation for growth this time and we're not going to invest all $350 million in one deal. So it'll certainly take us longer to invest the growth allocation.
I guess that depends on how much you would put into a growth deal this time around. Could we see you invest $100 million into a deal?
Funny you should ask. We've expanded our range on deal sizes. We used to say $50,000 to $50 million; now it's $10,000 to $100 million. The sort of informal agreement with the LPs is [up to] 15 percent [in one company].
Wow. Was that decision at all related to Twitter's newest round of funding [reportedly in the $150 million range and led by Kleiner Perkins]? Were you ever in the running for the round?
No comment. I'd rather not go into detail about that.
What do you think of its reported [$3.5 billion to $4 billion] valuation?
No comment.
What can you say about the Facebook shares you reportedly acquired recently from Accel?
We're an investor in Facebook, but we're not going to disclose valuation or how many shares or who from. We can say we've bought shares and we'll probably continue to look at it. Facebook was the first investment we made from the second fund.
Zynga is a major holding in the first fund. Will you buy another stake in the company using your second fund if the opportunity arises?
Anytime  we're investors in what we think is a high quality company, we'd always look at it over multiple opportunities, but it depends. We want to evaluate each opportunity independently. It would have to be the case where we're getting more data, and we've basically remade the decision. But If there's another opportunity to invest in Zynga, we'd take a look at it.
How many deals are you seeing a year?
Inbound? We've reviewed over 1,300 incoming referred qualified deals over the last 12 months…and met with over 200 in the last year.
Can we talk about some of your deals, like Skype?
In general, we're in blackout with Skype because it's filed its S-1.
Let's talk about Kno, then, a year-old tablet company that has already raised $55.4 million, mostly from your firm. A lot of people don't get it.

[Laughs.] Oh, we love it, it's great.  [Silence.]
At $899, it costs less than what kids spend in a year's time on textbooks, but what is it doing that Apple can't eventually do at a better price point with the iPad?
Several things: there's a need for textbooks, and there's a need for a larger form factor for textbooks. The Kno tablet is a 14-inch tablet. It's a Macbook Pro display…. Kno [also] has special economics for several reasons. The first reference point is what people spend for textbooks. They're a mandatory purchase, with local monopoly pricing power. There are no deals on textbooks. If you want to take bio 101 at Stanford, you're going to buy whatever textbook they tell you to buy; there's no negotiation.
The one way you can save money on that right now is to go to [textbook rental company] Chegg, which is the previous company of Osman Rashid [Kno's cofounder and CEO].  The problem with Chegg is that the publishers don't like Chegg because it reduces demand for new books. Publishers love the idea of an answer to that, which is going digital, but they refuse to compromise their economics if they go digital. Apple and Amazon have discount pricing structures that don't accommodate what textbook publishers want to do, whereas Kno is working with the textbook makers very carefully to ensure the economic model maps to what they want to do because it's not a replaceable good – you have to have [the textbooks.
The confusion around Kno has been incredibly entertaining. When you explain it to a student, they immediately get it and want it. But when people leave college – it's like they never had to live through this. Analysts and reporters are all like, "But what about the iPad?" Students say, "It's obvious. I need a big size. I can't display the textbooks on a smaller tablet. I can't even get the textbooks because the publishers aren't going through Apple or Amazon because they don't have the pricing models." So I think it's going to be an absolutely killer product.
What about Ning [the social networking company you cofounded in 2005 and which has raised north of $120 million from VCs]? Will investors ever get their money out and how?
[Smiles.] Yes, I think investors will make a lot of money. If you want to get into it, you should go talk to the new CEO, Jason. He's done a whole bunch of things [since] we flipped the whole business model this summer and the performance on that is outpacing our expectations, so in general, it's going very well. And he's now in the process of rolling out a whole other set of initiatives, a lot of which he hasn't talked about yet, so I'd prefer to defer a lot of that sort of future stuff to him. But he has a whole bunch of features, different kinds of business relationships, pricing models and new service offerings coming out.
What's the exit for Ning?
Our goal for every company we're involved with is to build strong, lasting, independent companies. We never have an answer to the exit question other than that.
In the meantime, why is a firm with three GPs and roughly a billion under management still focusing on seed stuff?
We have whole process for evaluating deals before they reach GPs. Ronny Conway and Frank Chen, who heads up research [and is a former VP of Products at Opsware] and Scott Cooper, who's our CLO and runs this whole thing —  they review a much larger number of deals than ever reach the GPs. What we're trying to get from them are the basic facts that we'd be asking in the first 20 minutes of the pitch anyway: who are the founders, what's their background, what market are they going after, what's the product, does it exist yet and, if so, do they have any traction. Then we ask the team to rate the opportunity on a scale of 1 to 10, which they sometimes elaborate on  — all the way to negative 30 and all the way to plus 100.
Negative 30 sounds like quite a statement.
We do see deals that are so bad, you want to turn them down twice. You feel like turning them down once is insufficient. [Laughs.] Then you see other deals and say, Oh my God, I'd kill someone to get this deal.
What's just one deal you lost to other VCs this year?
Well, okay. We were in the hunt for [the Series B of stealth flash memory startup] Pure Storage [closed in summer] and actually Aneel [Bhusri of Greylock] did it. And we were very happy for the company. We're good friends with Aneel and it's good for the company. But we did like what they were doing.
How did you lose the deal?
We did put in a bid but we probably didn't put in maximum aggressiveness [because] the technical founder was very compelling but at the time was they didn't have a CEO. We're either serious or we're not and Pure was one where we hedged a little bit. And I think they could smell it, frankly.
Also, when Aneel or Mike Moritz or John Doerr decides to do a company, we'll compete our little heart out, but they still have huge advantages.