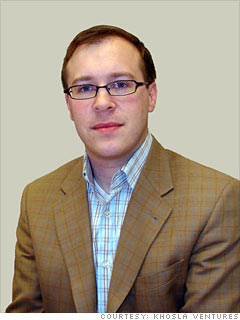 As we chatted about one of his portfolio companies late last week, I asked a few other questions of Khosla Ventures' partner David Weiden, who joined uber investor Vinod Khosla in 2006 after careers at an impressive array of companies, including McCaw Cellular, Netscape, AOL, and TellMe Networks.
Weiden was enjoying some family time with his four-year-old son at the time but was nice enough to talk about whether he has slowed down his pace of investing (he focuses on Internet software and communications), how the firm's capital-intensive clean tech investments are faring, and whether he still thinks that Slide, a deal he led for Khosla Ventures, is still worth the stunning $500 million valuation it was assigned when it raised $50 million back in January.
What are some of the more recession-proof startups in your portfolio? 
Ringcentral [the hosted phone business service] is doing very well in the downturn because of the cost savings they can pass along with businesses. Twenty-five bucks a month is much more attractive than spending $20,000 on [a] Nortel system. More, RingCentral's biggest expense is advertising. As ad rates drop, its costs fall, making it more affordable to reach new customers. Some businesses — they might not be the Facebooks, they aren't the sexiest businesses in the world, but they're subscription based and very attractive.
Flexilis, a company keeps people from hacking into your smartphone and makes it so that if you lose it  you can find it again, is also very recession-proof. You can imagine that a mobile phone isn't much more secure than a laptop — even less so. Google's Android had security problems at the outset, for example. It's the dark side of adding functionality to phones. But the security budget is one of the last things to get cut in a corporation, and businesses have to make secure calls. So do consumers, most of whom would sooner turn off their cable TV than turn off their cell phones. For Flexilis, too, falling ad prices will make it cheaper for them to reach customers.
Is Flexilis a new investment for you? How big a company is it? 
It's a small, scrappy company with 10 or 11 employees. It's written a nice suite of applications, but it's still in private beta. And we invested about $2 million. The company also raised a smaller piece from individuals [including Eventbrite CEO Kevin Hartz]. Most of them are from what I call the "security mafia" and the "mobile mafia." We do that a lot. We'll bring in a fund or individuals who are very strategic, and can help the company.
How many deals a year do you do, and have you slowed down the pace in the last couple of months?
I was doing five a year and next year, I'll probably do another five. But overall, absolutely things are slowing down a lot. People's styles are different. There are deals I wouldn't have done before, and now they just won't happen. They won't close. So overall venture spending is pulling way back. But we're sort of an unusual group because we're investing our own money, so we were always a little more careful with our own dollars.
Speaking of which: what happened to the institutional clean-tech fund that Vinod approached CalPERS about raising?
 That was never substantiated.  
Could you possibly speak about Khosla Ventures' capital-intensive clean tech projects, and where the financing will come from going forward? It's obviously gotten pretty rough out there. 
Many of those companies seem so promising that they're continuing to have success raising money. That's my observation from the other side of the portfolio. But you should probably talk with Vinod.
Across the consumer spectrum, are there some areas from which you're now moving away? 
A lot of my investments are in under-hyped areas. We're investors in Slide, so we invest in pure consumer companies. But I've tried to avoid companies that are very capital intensive and don't have a business model. I'm fairly conservative. I like businesses that have a real business model, like [Bluetooth headset maker] Aliph [whose product retails for $130], and Slide, which is supported by two revenue models: advertising and virtual goods.
Is Slide conservative? Do you still think the company is worth half a billion dollars?
Slide is very large now in terms of its inventory, and it has a diversified revenue stream. Regarding its valuation, I'd probably point you to the company. I would just note that it was a year ago [when Slide was given that valuation]. There was a real premium paid for the number one company, and the management team there is very strong. So there are some exceptional things about Slide. I'll leave it at that.