Think what you will about Mike Arrington; one thing is certain. The blogging entrepreneur and investor never shrinks from an opportunity to flame someone or something when the mood strikes him. And why would he? While he sometimes makes himself look like a tin pot dictator, his sharply worded diatribes are almost always widely read and discussed, and isn't that largely the point?
Herewith, some of Arrington's most famous flames, including what some are calling his ugliest, from yesterday.
[slideshow]
[slide title="Flaming Caterina Fake"]
Yesterday, shortly after serial entrepreneur Caterina Fake announced on her own blog that she has founded a new venture-backed startup in San Francisco's Hayes Valley, Arrington laid down the hammer, clobbering her in a TechCrunch post for breaking her own news. Not only did he warn that "Fake won't be getting any calls from me in the future to give her a heads up" the next time he has something involving her to report, but Arrington referred to the "extremely sordid situation" that allegedly prompted her to part ways with her last cofounder, Chris Dixon of Hunch. Arrington then added that he has "let the story go" since last year, and is "still not going to write about it."
Called out in the comments section as being spiteful (by Fake's ex-husband Stewart Butterfield, no less), Arrington only dug in his heels, saying that Fake has no integrity.
[slide title="Flaming Jason Calacanis"]
Arrington's love-hate relationship with serial entrepreneur Jason Calacanis is well-known by industry watchers. Last year, soon after Arrington told Calacanis he no longer wanted to be business partners in their TechCrunch conference franchise, the ugliness hit a high point. Calacanis tweeted, for example, that Arrington was a "sociopath" who "isn't capable of friendship –except w/dogs" and that he "stole from my family, treated me like garbage & laughed in my face as he screwed me." (Worth noting here: Calacanis publicly flamed Arrington far more than vice versa.)
Calacanis, who now runs his own Launch conference, later filed a lawsuit against Arrington, and last February, the Atlantic Wire reported that Arrington was trying to persuade attendees and sponsors not to participate in the event or risk receiving zero coverage from TechCrunch going forward. One entrepreneur, who would only talk with the Atlantic anonymously "because he said he feared retribution from Arrington," said Arrington had told him his company would no longer be covered on TechCrunch if he attended Calacanis's conference. "Michael has told me that if I go to this, they'll never do business with me again," said the entrepreneur.
No TechCrunch writers appeared at the event,  though TechCrunch has reported on at least two of the companies that presented at Launch: StackOverflow and Hipmunk. It has not written about most of the conference's winners, including Room77 and Greengoose.
[slide title="Flaming Colleagues"]
Arrington is very supportive of his own staff, but earlier this year, he seemingly didn't hesitate before jabbing at the editors of Engadget, another AOL-owned property. Accusing them of buying traffic to "juice up" their Comscore numbers, he called it cheating and wrote:
"[W]e're sad to see our sister blog Engadget doing just that – buying ads to pump up their Comscore rankings. We've seen a ridiculous number of ads on Google over the last month or two saying things like 'Keep Up With What's Going On In The Tech World With News From Engadget.'"
The "good news" he continued is that "traffic is rolling in. Comscore shows a big dip in Engadget's unique visitors last summer. But the ad campaign seems to be helping them make up the difference. Which is good, since Engadget's editors seem to be spending more time trolling TechCrunch comments than doing any actual work."
Joshua Topolsky, Engadget's then editor, later flamed Arrington in a related Business Insider post. "Explain what we've done to you," wrote Topolsky. "Explain anything that you've said beyond a personal vendetta. I haven't heard a shred of substance behind your attacks — only the vitriol of a man-child who can't control himself." (Topolsky has since left Engadget along with a number of other editors; they're working on a tech publication that will launch this fall.)
[slide title="Flaming Hand Shaking"]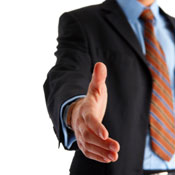 Think shaking someone's hand is a nice way to show your respect? Not to Arrington, who once wrote that "sweaty palms" send shudders down his spine and that handshaking is a "medieval" and "heathen practice."
"Whenever I do shake a hand I'm completely aware of [germs], can't stop thinking about it, until I can wash my hands," he said at the time. "Anyone who pays attention knows that most people don't wash their hands after using the bathroom, which should be a criminal offense."
[slide title="Flaming Angel Investors"]
Last fall, Arrington famously made waves by accusing "just about every major angel investor in Silicon Valley" of "collusion and price fixing." Saying he had stumbled uninvited into a meeting of investors in San Francisco, he reported that the group looked "guilty" when he entered the room, and that sources told him afterward that the group had discussed how to keep other competitors out of the market and prices under control.
"This isn't minor league stuff," said Arrington. "We're talking about federal crimes and civil prosecutions if in fact that's what they're doing. I had a quick call with an attorney this morning, and he confirmed that these types of meetings are exactly what these laws were designed to prevent."
Arrington called the post "difficult" to write "because I call nearly every person in that room a friend. But these actions are so completely inappropriate it has to be called out."
After a dramatic week of private and public accusations — fueled in part by investor Ron Conway, who did his own flame-throwing in the post's aftermath — everyone went back to work.
[slide title="The Offline Flame"]
According to Business Insider, back in May, Arrington only half-kiddingly bullied a group of entrepreneurs who had assembled in New York for a CEO summit organized by Conway. The overt message: give us your news or you'll be sorry.
Said one source who was there to Business Insider, "Arrington basically threatened the assembled entrepreneurs." This person then paraphrased Arrington as saying: "We'll make you look good. All I ask in return is that you call us first when you do any corporate development.'"
"It was somewhere between insane and honest. [He was] kinda kidding, kinda not. [It was] very J.J. Hunsecker," the source said.
[slide title="The Productive Flame"]
Arrington's rants have also been productive in some cases. In particular, in the fall of 2009, Arrington was the first to shine a light on the "unethical" way that big social gaming companies and offer providers were making hundreds of millions of dollars off Facebook games. (In a nutshell, several were pushing confusing advertising offers, including some with hidden fees, to players who didn't want to pay money for their virtual goods. )
Embarrassed by the publicity, Facebook quickly came down on a number of those offer providers, including Offerpal Media, which was later forced to dramatically downsize, as Facebook gave its offers business instead to competitor TrialPay. (Offerpal has since been renamed Tapjoy and shifted its strategy. It has also installed two new CEOs since Arrington's post.)
Games powerhouse Zynga also changed the way it does business after the post, dropping offers marketing.
Zynga investor Fred Wilson later called the controversy a "shitstorm" that "was not fair."
[/slideshow]