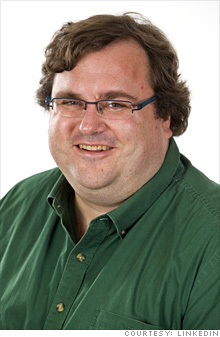 Earlier today, several outlets announced that Greylock Partners has allocated $20 million to LinkedIn co-founder Reid Hoffman, who joined Greylock as a partner last November.
Of this development, I say: When did Greylock grow so desperate for attention?
According to TechCrunch, Hoffman — along with any other Greylock partner — can write checks to nascent startups for anywhere between $25,000 and $500,000. This new $20 million "fund" is part of the firm's 13th fund ($575 million), which closed last fall.
Put another way, absolutely nothing has changed, except that maybe Greylock has recently found itself overlooked by budding entrepreneurs in search of small rounds.
How? Why? My guess is that Hoffman is simply too big a brand at this point. Sure, Greylock has backed hot startups, including Twitter, Pandora and LinkedIn. But not only did Hoffman start LinkedIn, he has spotted some very hot companies far earlier on than most VCs, including Facebook, Zynga and IronPort Systems, which sold to Cisco in 2007 for $830 million. (Correction: Greylock is not an investor in Twitter.)
It's precisely for Hoffman's smarts and street cred that he was asked to join Greylock last year. Yet a look through a number of recent press stories highlights to what degree Hoffman has continued to eclipse the firm. For example, in a story about Web startups published earlier this month, Dow Jones Venturewire referred to Hoffman as an angel investor. No mention of Greylock was made. In a San Jose Mercury News story published last month, it was noted that Hoffman, a former executive VP of PayPal, had "started LinkedIn." No mention of Greylock. When the San Francisco Chronicle reported last month that Facebook had acquired Chai Labs, it referred to Chai Labs' investor Marc Andreessen as a venture capitalist; it referred to Hoffman as LinkedIn's founder. And these are news outlets that cover venture capital and venture-backed startups.
Will things change now that Greylock has announced Hoffman is overseeing a $20 million chunk of a fund that Hoffman was already overseeing some slice of? Will Greylock now jump to mind when entrepreneurs are seeking out their first financing event? Maybe. It can't hurt.
Of course, if Greylock really wants to align itself with budding founders, it should probably find its way into the next quiet convening of angel investors. Getting flamed by famed seed investor Ron Conway might do the trick, too.