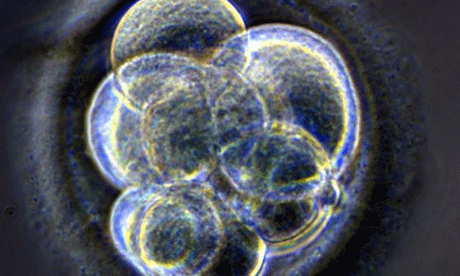 Infertility affects nearly all of us, either directly or through our friends and family. And growing numbers of people are doing something about it.
In 2007, according to the CDC, 430 fertility clinics in operation performed 142,415 Assisted Reproductive Technology (ART) procedures, in which eggs are surgically removed from a woman's ovaries, combined with sperm in a laboratory, and returned to her body or donated to a surrogate.
Unfortunately, the procedures — 99% of which are in vitro fertilizations (IVF) and typically cost upwards of $20,000 — result in disappointingly low numbers of live births, particular for older women. For those ages 38 to 40, just 20.9% of ART cycles resulted in live births (meaning multiples or single children) in 2007. For women ages 41 to 42, that percentage dropped to 11.5 percent.
Serial entrepreneur George Tidmarsh sees a big opportunity in improving those odds with his new startup, Nuveta, in Portola Valley, Calif. Its objective? To improve the quality and viability of the embryos used in the procedures by supplementing them with the same biology that exists within a woman's ovaries and uterus, and applying that in vitro.
"Right now, [major medical device companies] use [mixtures] of glucose and salts and amino acids," in which to incubate embryos, says Tidmarsh, who founded Nuveta early last year. "No one is using the follicular fluids and compounds that an ovary contains and that we believe is essential to creating a healthy embryo."
Nuveta's model is still in the proof of principle stages, but investor Vivo Ventures, which has seed-funded the company with $900,000, has reason to be optimistic. For one thing, Tidmarsh is an all-star. The Stanford-educated PhD, also founded Threshold Pharmaceuticals, which went public in 2004, as well as five-year-old Horizon Therapeutics, which has raised $51 million from Scale Venture Partners, Pequot Ventures, Sutter Hill Ventures, and Essex Woodlands Health Ventures. Tidmarsh stepped aside as CEO a couple of years ago ("my forte is more the scientific and clinical," he says) but remains on the board.
Tidmarsh thinks Nuveta can realize its ambitions on the cheap, too, partly because it falls into the category of medical device, which requires less scrutiny from the FDA than do new pharmaceuticals. It is also able to access some of the thousands of embryos that have been donated to scientific research. "Proof of concept can come much faster than where you'd have to enroll human subjects in a trial," says Tidmarsh. Not last, the company doesn't have, or need, much overhead. Right now, it's working with collaborators at both large academic centers and fertility clinics to test for the genes that define good and bad embryos. (They are then applying a microarray technology to determine which supplements should be added to turn those low-quality embryos into high-quality embryos.) If Tidmarsh's theory bears fruit, he won't need much of a salesforce, either, given that there are roughly 500 fertility clinics in the country and that they are fairly concentrated both geographically and in terms of the numbers of doctors who'd need to be convinced to use the stuff.
So how much does Nuveta need to get from here to there? Tidmarsh says he's not yet sure, but he's planning to head out for a Series A sometime this year. "We're collecting more data that we think will be help investors assess the opportunity," he says.