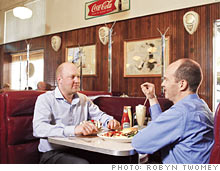 Yesterday, eyebrows across Silicon Valley shot up at the news that Andreessen Horowitz invested $80 million for secondary shares of Twitter. It's the second time in two months the firm has bet a colossal chunk of its three-month-old, $650 million fund on secondary shares. In November, the firm also acquired what co-founder Ben Horowitz calls a "high volume" of Facebook shares that's been reported at $80 million; it bought them from Accel Partners at a $33 billion valuation.
Andreessen Horowitz is hardly alone in its obsessive pursuit of the biggest social media brands. Other firms to buy secondary shares in the hottest names over the last 12 months include Technology Crossover Ventures, Elevation Partners, Battery Ventures, Digital Sky Technologies and Kleiner Perkins Caufield & Byers. The question is why LPs are paying them to access private company shares that are readily available to anyone with enough cash and a browser.
Last night, Ben Horowitz told me the firm's LPs pay for three things: "access to the very best deals at good prices, knowing what those deals are, and helping those companies succeed." Horowitz said Andreessen Horowitz enjoys access to shares that are out of the reach of its LPs because it's among a limited number of investors that been preapproved by Facebook and Twitter, both of which are more aggressively managing where large blocks of their employee shares land. "There are a lot of relationships involved," said Horowitz.
When asked how the firm will "help" Twitter succeed by buying secondary shares, Horowitz quickly offered that it would "be an overstatement to say that we have anything to do with the governance of Twitter." Instead, he said, "We've spent a lot of time with [the founders] and know the other guys on the board pretty well, so a lot of our LPs' value there is our judgment."
Maybe. As likely, many LPs don't care how they land a piece of Facebook or Twitter, just so long as it happens. As one institutional investor told me yesterday afternoon, "I wouldn't say that LPs aren't complaining or that people are happy paying fees and carry on this [secondary] stuff, but some just want to own these names."
There's growing concern over the trend, though. Another institutional LP with whom I spoke last night called buying secondary shares "an opportunistic strategy that a relatively small number of firms like Andreessen Horowitz, Kleiner, and TCV, have the best good shot at succeeding with." Later, this person admitted to worrying that some fund managers "don't recognize that this opportunity might be short-lived."
Fed-up competitors are counting on it. One prosperous Silicon Valley VC said yesterday, "DST executed deftly [investing in Facebook in 2009, including through an employee stock buyback] and they look like geniuses for getting 5x on their investment. But that doesn't mean that everyone else who is now playing this game is going to win. It's not easy to pay market price for the hottest deals [and still provide LPs a healthy return]."
The VC even drew a line between Andreessen Horowitz and Bowman Capital, a San Mateo–based firm that raised a $500 million, late-stage fund in 1999, showered the money on 35 mostly doomed companies, then imploded, selling its portfolio in 2003 to Industry Ventures. 
"Andreessen Horowitz is this shiny new object, but you don't have people working there who have experience with the venture business. Meanwhile, history has shown that the late-stage market is highly cyclical. Why would they be good at timing it right?"